Australian Migration Updates for April 14, 2023
Hey there, young dreamers!
If you're planning to migrate to Australia anytime soon, you might want to check out the latest updates we've got for you.
Let's dive right into the most recent migration news brought in by OccuSearch
RDA Northern Inland Reaches Maximum Quota Limit for 491 Visa Applications:
Bad news for those eyeing the RDA Northern Inland region – they've already hit their limit for 491 visa applications.
But don't worry, there are still other regional pathways available. Check out the NSW Government website directly for more info.
Source: https://www.rdani.org.au/skilled-migration/skilled-work-regional-visa-subclass-491/occupation-list-for-the-northern-inland.php
Western Australia State Nomination Process update:
Here's some good news!
You no longer need a signed State nomination agreement to be nominated for WA State Nomination.
You'll get an email and notification on SkillSelect within five working days post-approval.
But if you were approved before March 31, you still have 28 days to sign and return your State nomination agreement.
Source: https://migration.wa.gov.au/services/skilled-migration-western-australia/latest-news
Western Australia Invitation Round Results for April 6, 2023:
Curious about the latest invitation round results for Western Australia?
Check out this table:

Source: https://migration.wa.gov.au/services/skilled-migration-western-australia/invitation-rounds/current-invitation-round
Tasmanian Skilled Migration State Nomination Program:
Tasmania has slightly adjusted their nomination quotas – the Subclass 190 quota has increased by 150 places, while the Subclass 491 quota has decreased by the same amount.
Their final 2022-2023 program year allocation is:
SC 190 Visa – 2,150 places
SC 491 Visa – 2,100 places
But don't worry, you can still apply for the Tasmanian Skilled Migration Nomination.
Invitations will continue to be issued throughout the rest of the year (2022-23) and into the next program year (2023-24).
ACT Invitation Round Results for April 5, 2023:
Lastly, for all you curious cats reading this, here is the invitation round results for the ACT: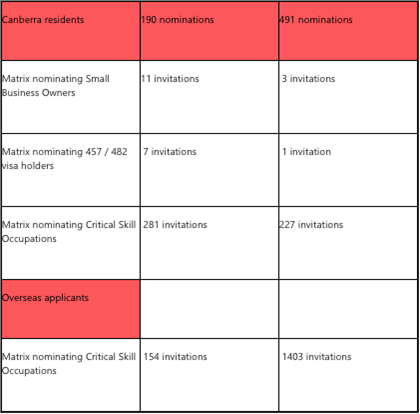 Want to work in Australia?
Download OccuSearch – your passport to the Land Down Under!
A brilliantly crafted mobile application tailored to empower dreamers like you, seeking to explore the boundless possibilities that await in the mesmerizing land of Australia.
OccuSearch transcends ordinary visa tools by weaving together a tapestry of essential features. Discover the perfect visa path, unlock the mysteries of eligibility criteria for state nomination, and effortlessly calculate your golden ticket to permanent residency. But wait, there's more! Our clever app also demystifies the fog surrounding visa fees, offering a transparent estimate for your journey.
Bid farewell to the days of scouring the depths of the internet! OccuSearch acts as your personal migration concierge, delivering timely push notifications with critical updates, right to your fingertips.
Why wait for a sign?
Your adventure begins here: https://occusearch.page.link/lgn
Embrace the magic of Australia and let OccuSearch guide your way!