GRE, GMAT, & SAT
Colleges publishes average scores of last year's enrolments from which students gets a fair idea on how much should they score.
| | | |
| --- | --- | --- |
| Test | Stands for… | Normally Conducted for… |
| GMAT | Graduate Management Admission Test | MBA students |
| GRE | Graduate Record Examinations | Engineering students for graduate courses |
| SAT | Scholastic Aptitude Test | Engineering students for undergraduate courses |
*Note:
The requirements will vary with each university/college; the above scores will just serve you as a guiding path.
IELTS or TOEFL are normally mandatory even if students show their GMAT, GRE, or SAT certificates.
Financials – Overview
The whole planning for the money related documents are to be done at an earliest reference point phase of the procedure. This is an extremely critical point that schools look for before affirming the I-20. The same documents and verification will be required at the time of visa interview.

Personal Funds
Bank statement, bank letter, or loan letter. An original is not required for I-20 issuance purposes but is strongly encouraged for the visa application.
Student loans are considered to be Student Personal Funds.
Sponsor Proof of funds includes
Your Bank Passbooks or Monthly/quarterly Bank Account transaction statements (in case your bank does not issue a passbook).
The statements/passbooks should show transactions for the past 3 to 4 months (preferably 6 months).
Tax returns for the past three years (at least two years) of your sponsor.
Three recent salary slips of your sponsor (in case your sponsor is employed)
While preparing a payment plan for next year's tuition fees one can show
A statement of your Demat account showing the shares/mutual funds you own and their current market value.
Originals of NSC/NSS certificates, PPF passbooks etc.
Following documents are also required.
Affidavit of support
Summary of assets
Fund flow statement

English N Overseas can help you out with the complications that you face in term of Finance and other migration stuff. So it's recommended that you book a counseling session with us, and get the thorough knowledge with our experts.
Admission & Visa Process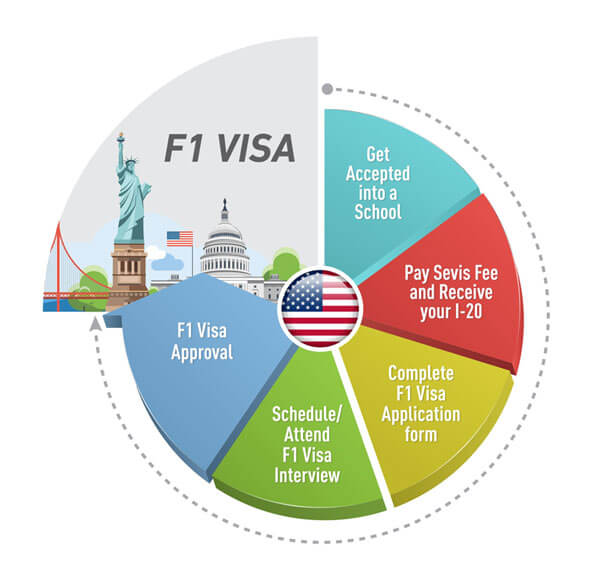 Choosing a University
Make sure that the university you chose is accredited.
Our ENO representative can help you out with the selection procedure of the college that you want to be into, and with a transparency in their work, they will keep you updated with the efforts that are been put into.
Get done with the F1 Visa Application form
Through this you can receive the I-20 form from that respective university. Once you are done with the selection of the university, ENO will process your complete F1 Visa application form and get your interview scheduled with the Visa officer.

Get yourself prepared with our "Mock Interviews"
With our unique feature of preparing our candidates for their upcoming interview with the visa officer, we give them our best with every "can be" or "definite" question that can arise while the process of the interview.
You, with having ENO on your side, will surely get an experience to how the entire process flows and how to easily grab it.

Get the Visa approval
Getting done with the interview, you can receive your student visa and can successfully go to USA. for your further studies.

About the Interview
The process for obtaining the I-20 is quite different when it comes to different institutes. The opportunity to get the visa depends on the quality of interview the student gives to the visa officer. The student should clearly note down every pros and cons of the institute that he wants to be in and the institutes that he/she doesn't want to get into. This is a serious stage, a small mistake at which can lead to a refusal in the visa process.
It all goes through the way you convince the visa officer during the interview.

The key points that are to be prepared before you appear for the interview:

1. Academics

The visa officer will surely be interested in regards for your academic record.
What is your score? (GRE, TOEFL, GPA/Percentage).
How many backlogs?
How do I know that u won't waste your time and study well?
Why this university?
How many acceptance & rejects?
2. Financial Background
The officer or the interviewer will also make sure that you are able to afford the course that you are opting for in the United States.
Prepare a good CA statement which can easily state your financial background and its dollar equivalent. The interviewer has very much time, keeping this mind, make sure that the documents you take are perfect and he doesn't have to look out for things, which can make the case complicated.
He will surely ask you whether you have siblings, if yes, why are your parents willing to spend so much on you. You should be prepared for such questions with the financial documents stating that yes, your parents can afford to serve your siblings same as you.
3. Plans after returning back to India
You should be planned from the very beginning about the procedure to follow after you complete your course and return back to India.
It's well understood that you are going to USA on a student visa, which will surely expire in few years. Your intentions to return back to India will be marked and will counted highly during the process of your interview.
With every question that can possibly be asked during the interview, our ENO representative will assist you with it.

Documents to be submitted along with the Application
The following documents are to be sent along with the application. Please note the following list is for indicative purpose only. The required documents may vary from case-to-case.
List of Documents required to apply to US Universities.
DD/Bank check for Application fee (If you have not paid the application fee online).
Recommendation letters (Usually required for higher level courses).
Standardized tests certificate copies (IELTS, TOEFL, GRE, GMAT etc.).
Transcripts of academics.
Cover letter & Statement of Purpose.
Affidavit(s)
Financial documents.
C.V. that also includes employment history and certificate.
Photo Copies of first and last pages of your passport.
Other documents you have to support the application further.