Do Skilled Recognised Graduate 476 Visa Leads to PR in Australia? Some Frequently Asked Questions Answered!
There has always been an endless flow of career opportunities for engineering professionals in Australia. This not only restricted to a particular discipline but all major engineering occupations.
As per the Hays, Recruiting Experts in Engineering, there will be a great demand of Structural Engineers, Civil Drafters, Intermediate Civil Engineers, 12D Designers, Civil Design Engineers, Electrical Engineers, Revit Drafters, Traffic Modellers, Water Engineers, Transport Planners, Fire Design Engineers, Hydraulic Drafters and Civil Design Engineers in the coming months of 2018.
Following the consistent demand, the government of Australia has taken several initiatives to fill the shortage of skilled and specialised professionals. One such initiative is introducing the Skilled Recognised Graduate Visa.
All the international engineering students who acquire degree or qualification from Australian universities will be considered eligible to work in Australia even without any experience, if they hold a Skilled Recognised Graduate 476 Visa.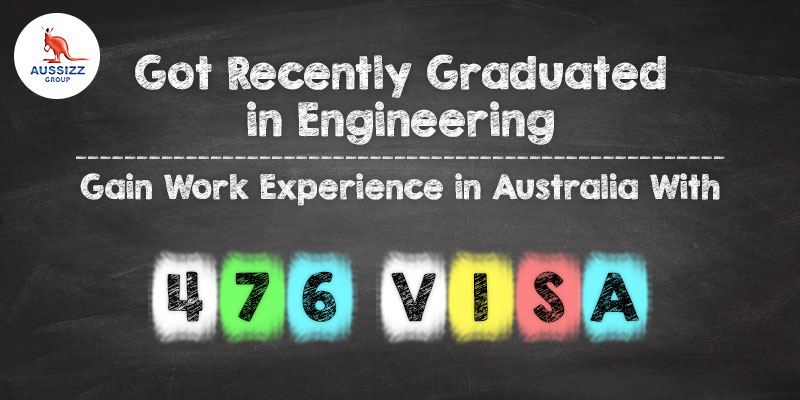 If you are currently pursuing an engineering degree in Australia or have recently become graduate, chances are you would also like to choose this pathway to get better job prospects in Australia and enhance career growth.
Hence, to ensure you know all the criteria for 476 visa and to help you make an informed decision, we have compiled a list of frequently asked questions along with answers that are given below. Take a look!
Also Read: Education and Career Opportunities for Engineers in Australia
What is Skilled Recognised Graduate Visa?
Skilled Recognised Graduate is a temporary visa for recent international engineering graduates that allows them to get employment and gain skilled work experience in Australia. The visa is valid for up to 18 months.
Who is eligible for this visa?
You are only eligible for 476 visa if:
You are 31 or younger in age
You have either completed bachelors, masters, doctoral or postgraduate diploma in engineering
Your qualification must include specialisation in either civil, chemical, environmental, structural, mechanical, production & plant, electrical & electronics, mining and material engineering
You are applying for the visa within 24 months of completing an eligible engineering qualification from a recognised institution of Australia
Have never hold skilled recognised graduate visa or temporary graduate 485 visa (unless you were a dependent on visa)
You have the required English language skills
Meet health and character requirements
What does it mean from "A Recognised Institute"?
A recognised institution offering an Engineering qualification in Australia is accredited under the Washington Accord. It is an international agreement between professional bodies of participating or signatory countries who are responsible for accrediting engineering degree programmes.
It assures that the degree programmes accredited by bodies of participating countries hold significant equivalency. International students graduating from recognised institutions, as a result are considered to work in Australia when applying to practice engineering.
How one can demonstrate English language skills for 476 visa?
There are number of tests available that help you provide evidence of your English language ability for lodging a visa. These include: IELTS Academic, PTE (Academic), OET, TOEFL, and Cambridge (CAE).
The minimum scores required for each test are:
IELTS – Overall score 6 with at least 5 in each band
PTE – overall score 50 with at least 36 in each band
OET – a score of at least B in each of the four components
TOEFL – Total score 64 with 4 in listening and reading and at least 14 in writing and speaking
Cambridge – 169 overall with at least 154 in each band
What is the processing time and fees for an Australian 476 visa?
It usually takes 3 to 4 months to process an application for 476 visa while the processing fees is AUD 365.
Please Note: The processing time and fees may vary due to individual circumstances.
Can I include my family members as a dependant in visa application?
Yes, you can include your partner and your or your partner's child/step child as a dependant in your visa application.
What are the chances of getting a job on skilled recognised graduate visa?
This usually depends on your skills and how well you perform at the interview.
How do I buy the best health insurance plan to meet health requirements for 476 visa?
There are various leading health insurance providers in Australia offering best of health insurance policies to help you meet your needs and visa requirements. This include Bupa, Allianz, Iman, Nib, Australian Unity and Ahm.
You can compare their plans on different parameters at www.getmypolicy.online and get the best quote instantly.
How character requirements are met?
You must provide a police clearance certificate from each country you've lived for more than 12 months in the past 10 years after you turned 16 years of age. These certificates must prove you with no criminal records.
Can I undertake any course of study or get admission in a university while living in Australia on 476 visa?
Yes, you can study or get admission in a university while living in Australia on 476 visa. However, you must have all the evidences on hand required by the immigration department like letter of admission, availability of funds, etc.
Am I eligible for permanent residency on 476 visa?
476 visa is only valid for 18 months and cannot be extended. There are other pathways that can help you extend your stay and get permanent residency in the country. These include:
Employer Nomination Scheme visa (subclass 186) (If you are nominated by an approved Australian employer to fill a skilled position, you can apply for this visa)
Skilled Independent Visa (subclass 189) (It is a point-tested visa that allows you to work and live in Australia as a permanent resident if you score at least 60 points or more in the test)
Skilled Nominated Visa (subclass 190) (If you are nominated by an Australian state or territory, you can apply for the visa)
Skilled Regional (Provisional) visa (subclass 489) (If you are already living in regional area of Australia on 476 visa or considering to make a move to work there, this visa is appropriate for you)
If you need assistance for any of the above visas, we have the most experienced immigration experts to help you at every step of pre and post visa application process. All you need to do is to get in touch with us at info@aussizz.com.
Why my visa application is getting delayed?
A lot of reasons are responsible behind the delay in visa application. This can be due to high number of applications for immigration department to review, improper paperwork, missing crucial documents, non-payment, etc. To know the appropriate reason, it is highly advisable to seek assistance from the experts.
Prepping to lodge a visa application? Didn't get your questions covered? We have a registered team of immigration consultants who work meticulously to turn any obstacle into an opportunity for you. From gathering documentation, confirming your eligibility to dealing with immigration authorities and visa approval, you can always count on us for the accurate process and best support.
So, why not get started now? Drop all your queries or concerns at our immigration and education forum.