2023 Australia PR: A Step-by-Step Guide to Obtaining Permanent Residency
Hey there! Are you thinking about making Australia your permanent home?
It's a great choice!
Australia is known for its beautiful natural scenery, cultural diversity, and excellent standard of living, making it an attractive destination for those seeking to settle somewhere stable and safe permanently. If you're ready to take the plunge, then obtaining a permanent residency (PR) visa is the first step towards achieving this goal. Don't worry if you're feeling a bit overwhelmed – we've got you covered! In this step-by-step guide, we'll provide you with everything you need to know about applying for an Australia PR in 2023.
Let's look at each option in detail

* Please note, all information provided here is general in nature as every individual may have their own challenges. We highly recommend speaking to our expert consultants before deciding your options.
Step 1: Determine Your Eligibility
Before you begin your PR application, it is important to determine your eligibility for the various visa options available. There are several PR visa options available in Australia, each with its own set of requirements. The most popular visa options include:
To determine which visa option is best suited for you, you will need to assess your eligibility for an Australia PR visa based on factors including:
Age: You must be under the age of 45 on the date of your application.
English language proficiency: You must have a minimum IELTS score of 6.5 in all four bands.
Education: You must have a bachelor's degree or equivalent from an accredited institution.
Work experience: You must have at least two years of full-time work experience in a skilled occupation.
Step 2: Calculate Your Points
The Australian government uses a points-based system to assess applications for PR visas. The number of points you earn depends on a number of factors, including:
Age: You earn 10 points for each year of age under the age of 45.
English language proficiency: You earn 20 points for an IELTS score of 8.0 or higher.
Education: You earn 15 points for a bachelor's degree and 20 points for a master's degree or higher.
Work experience: You earn 10 points for each year of full-time work experience in a skilled occupation.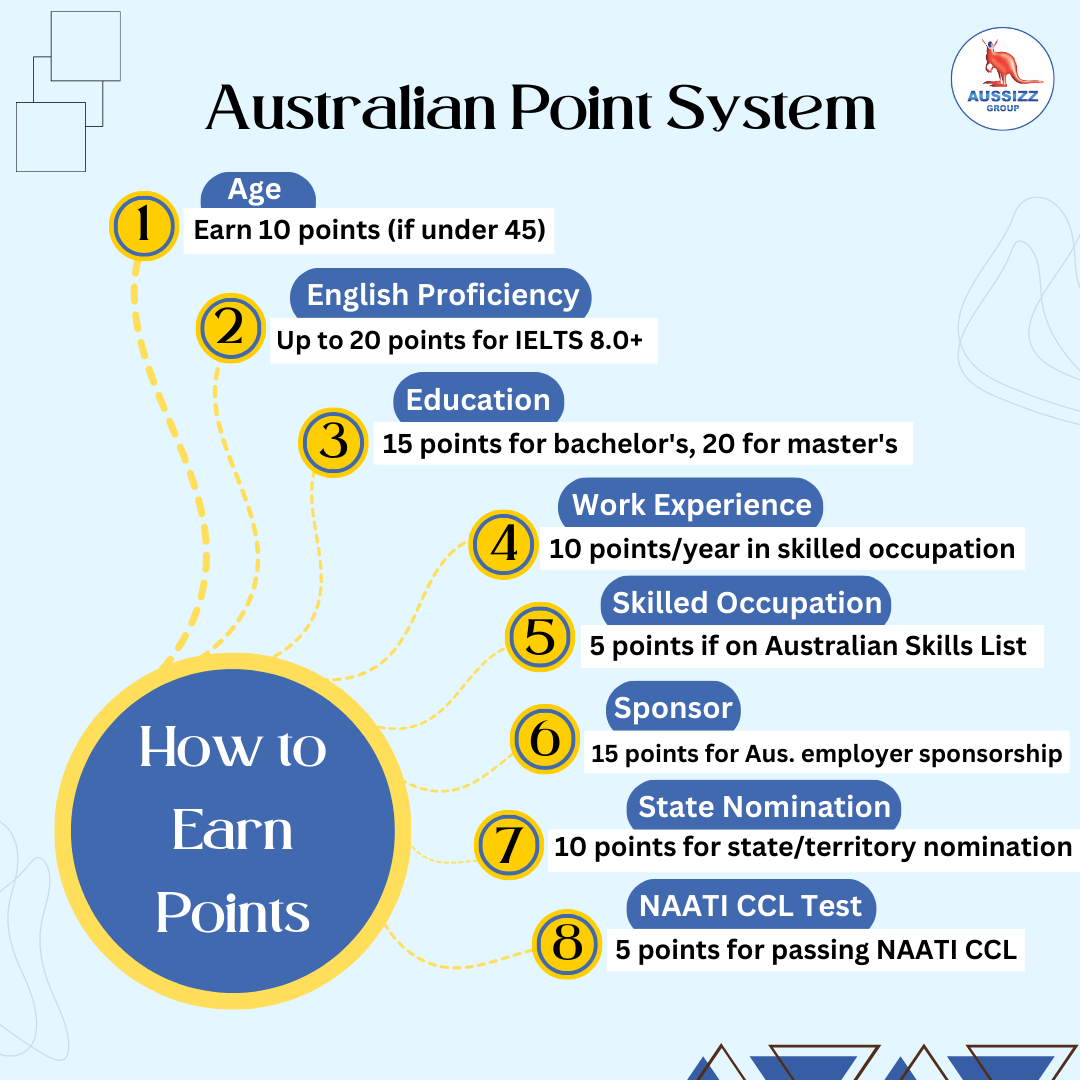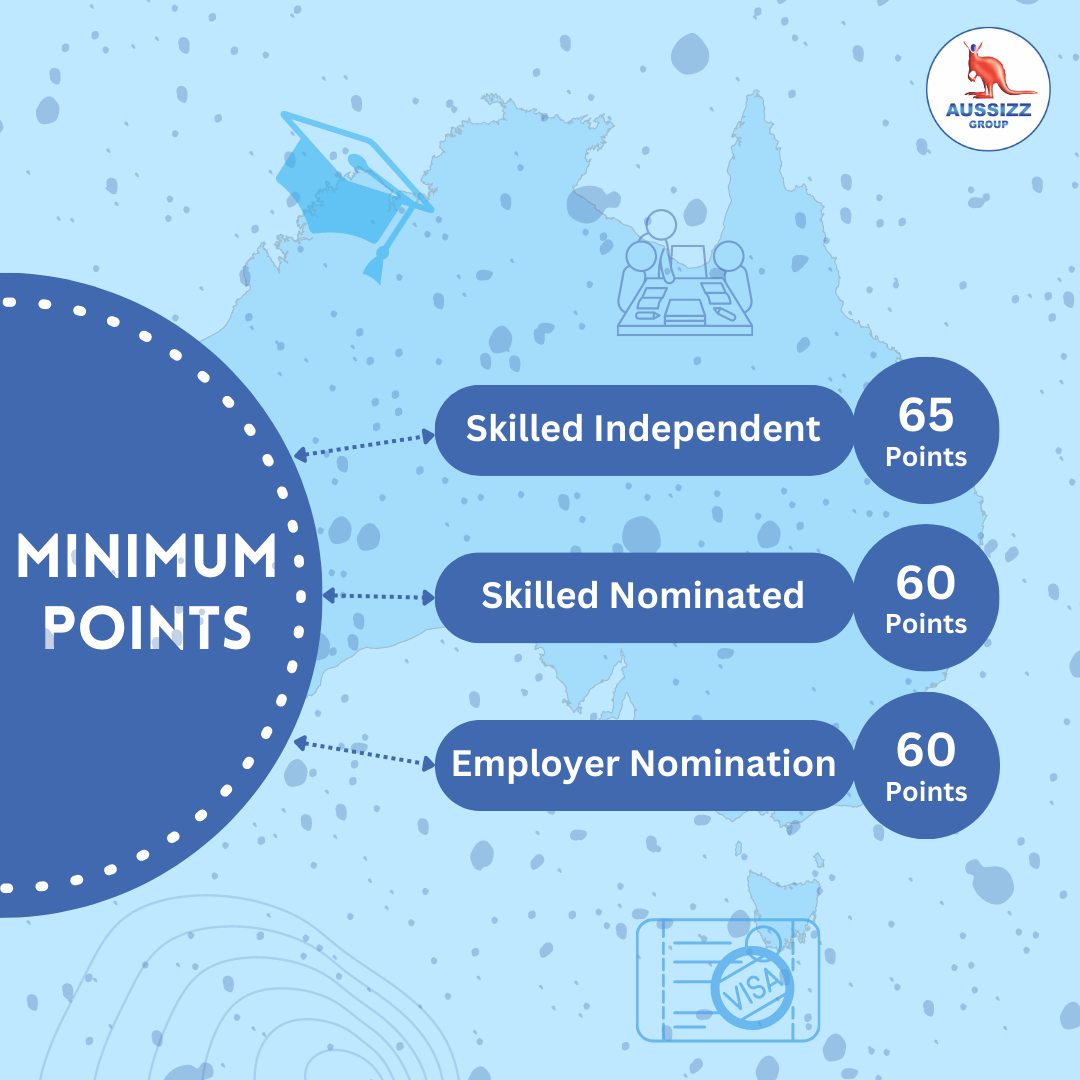 Step 3: Lodge Your Expression of Interest
Once you've determined your eligibility and calculated your points, the next step is to lodge an Expression of Interest (EOI) with the Australian government. An EOI is an online form where you provide information about yourself, your skills, and your qualifications. The Australian government will use your EOI to assess your application and determine if you are invited to apply for a PR visa
Step 4: Gather the Required Documents
If you are invited to apply for a PR visa, you will need to gather the required documents.
These documents will vary depending on your visa application, but they may include:
Passport
Educational certificates
Work references
Other supporting documentation
Remember, it is important to ensure that all documents are translated into English and certified before submitting them.
Step 5: Submit Your Visa Application
Once you have submitted your visa application, the Australian government will process it.
The processing time can vary depending on the volume of applications being processed, so it is important to be patient.
You can check the status of your application online.
Step 6: Wait for Your Visa to be Granted
Once you have completed all the necessary steps and submitted your visa application, the final step is to wait for your visa to be granted.
P.S. The processing time for a PR visa can vary depending on the visa option you have chosen, your individual circumstances, and the volume of applications being processed by the Department of Home Affairs.
During the processing time, it is important to regularly check the progress of your application through the Australian government's online application system. You may also receive requests for additional information or documentation, which you will need to provide promptly to avoid any delays in processing your application.
Step 7: Make the Move to Australia
Once your PR visa has been granted, you can make the move to Australia and begin your new life as a permanent resident. Your PR visa entitles you to live, work, and study in Australia indefinitely, as well as access to healthcare and social security benefits.
It is important to remember that as a permanent resident, you also have certain obligations, such as paying taxes and adhering to Australian laws and regulations. You may also be eligible to apply for Australian citizenship after meeting certain residency requirements.
The Role of Immigration Consultants
While it's possible to navigate the visa application process alone, many people choose to enlist the help of immigration consultants.
Immigration consultants are professionals who specialise in visa applications and can provide guidance and support throughout the process. They can help you determine your eligibility, calculate your points, and submit your application.
You can always rely on Aussizz Group for your application process. With 100+ certified education and migration Agents, Aussizz is always there to support you and also provide advice on how to increase your chances of success and navigate any challenges that may arise during the process.
Good luck with your application, and we hope to see you soon in Australia!
NOTE: The Australian Government's Department of Home Affairs website is always the most accurate and updated resource for the latest information on visa options, eligibility criteria, and application requirements.
ANNOUNCEMENT!
The Biggest Australian Education and Migration Meet of 2023 (Conclave 3.0) is happening from the 26th to the 30th of June.
Witness 70+ education experts and over 45 Registered Migration Agents talk about various PR Pathways for healthcare, education, service, hospitality, trade, and professional courses and occupations.
International Students! There's going to be a special seminar on each of these days to help you out with everything you need.
Share this news with all your friends, family and acquaintances who might benefit from this! Don't miss out on this opportunity to learn more about the Australian PR visa process and get all your PR and other visa-related questions answered by experts.
Register for free today!