How to Buy the Right Overseas Visitor Health Cover in Less Than 10 Minutes?
Your planning to stay or work in Australia is going in a full-fledged manner. You have everything on the table except health insurance. You called your agent to discuss health covers. He comes, fully armed with forms and booklets, and start explaining policies to you from basic to the more complex ones.
And then…. the real struggle starts. You wrestle with tons of information and before you start understanding something, you are forced to weigh the additions or subtraction of each policy.
More than 70% of overseas workers have trouble understanding what covered in their policy
40% of visitors said they don't understand changes in their coverage
While 50% of policy holders admitted their regrets for the decision on insurance benefits.
You need to quickly submit evidence of health insurance cover to the immigration policy but, you are here wondering what suits you best or what you need to include in the cover. Right?
Well, there is no denial in that buying anoverseas health insurance cover is complicated. Comparing the benefits of different plans, weighing monthly premiums against yearly deductibles make one go insane, especially when you're short on time.
Must Read: 6 Most Important Terms to Consider for Australia Health Insurance Plan
This is why; we have come up with few tips that can help you evaluate your options and choose the most suitable plan quickly. Take a look!
Choose the Right Category
Any health insurance plan typically consists of four categories: Bronze, Silver, Gold and Platinum and OVHC is no exception. These categories show how the policy holder (you) and the insurance company will share health care costs; however, they do not affect the quality of care.
Let's understand each category precisely before making any decision.
Bronze: Bronze plans are the basic ones with lowest monthly premiums but the highest costs when you get care. Such plans are recommended if you need few medical services and mostly the protection from bearing full costs at the time of sickness or injury.
Silver: Silver plans include moderate monthly premiums and moderate costs to get care. The deductibles of this plan are usually lower than those of bronze plans. It covers about 70, 80 or 90 percent of total health care costs, depending on your income.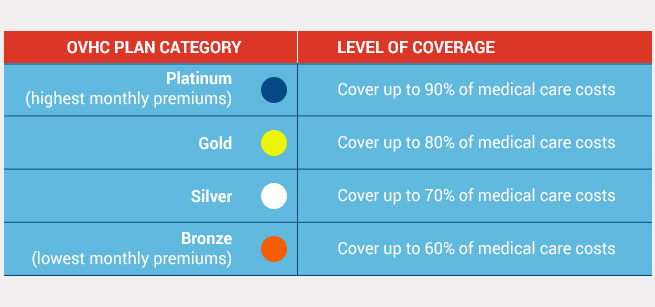 Gold: Gold plans have the higher monthly premiums and lower costs when you get care. If you are willing to pay more each month to get your maximum costs covered at the time of medical treatment, gold plans provide great value. Besides, the amount of deductibles you pay before your plan pays are usually low.
Platinum: Platinum plans come with the highest monthly premiums but the lowest costs when you get care. The deductibles in this plan are very low, means you start reaping its benefits earlier than any of the four categories mentioned above.
Understand Health Care Needs before Costs
You pay monthly premiums, even when you don't use medical services that particular month. You pay out-of-pocket costs along with deductibles to access care. More often, we tend to overlook our health care needs and shift our entire focus on bills that are required to pay to the insurance company. However, the decision should be made on the basis of health care needs and not just the costs suitable to the pocket.
Compare Health Insurance Plans
It is extremely crucial to learn how each policy of different providers is different in regards to premiums and the services covered. When one has so many policies at hand, it is a common to go with the first few that come in the direction. However, when there is possibility of striking the best deal by comparing different plans, why not make use of it? Resources like www.getmypolicy.online allows you compare plans of leading providers like Allianz Global Assistance, Bupa, Australian Unity and IMAN to help you choose the one that best meet your budget and visa requirements.

Choosing the right health care coverage is one of the most important decisions you can make for you and your family to ensure a peaceful journey in Australia. You can save a lot of time by constricting the search to those plans that pay for your regular and necessary care. And then consider premiums and out-of-pocket expenses on the basis of budget and assets.